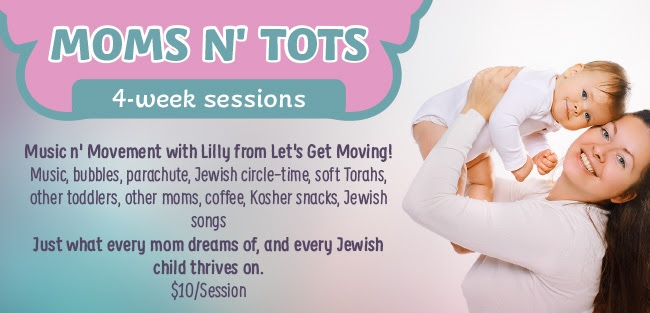 Sign up to receive reminders and photos: 514.808.1418
Join Jewish moms and tots for interactive play and creative activity.
This 4-session program seeks to nurture both the practical and spiritual side of our growth as Jewish mothers. Spend time with other mothers and tots while enjoying Judaic songs, projects, circle time, stories and some junior gymnastics.
This is a wonderful opportunity to learn how to raise your child with the joy of a traditional Jewish home while you and your child make lasting friendships.
Moms can never get enough of this win-win program. Share this with anyone you know that had a baby in the past 3 years. Babies and toddlers thrive in the warm Jewish stimulating environment, experiencing Jewish circle time with Leah and music n' movement with Lilly from Let's Get Moving! Moms get to hang out, discuss and enjoy a great coffee while moving a bit themselves.
Thursdays, 11:15am, $10/session. On occasion there will be sessions on other days of the week.
Contact Leah to be added to the whatsapp group for schedule and continuous updates. 514.808.1418
Ask for your complimentary trial week.
Jul. 14, 2020
Join us for our weekly learning. Join Leah and other women for roundtable Torah discussions made relevant to our daily lives over tea, coffee and pastries. Join via zoom: ...
Click
here
for a fantastic HIgh Holiday site - great recipes, videos, how-tos, articles, Chanukah around the world... much more.